Apex Carpet is One of Only 11 Carpet Care companies in the Charleston area
IICRC Certified in Carpet Cleaning and One of 9 Certified in Water Damage Restoration
Voted "Best Carpet Cleaners in Charleston"
2008,2009,2011,2012,2013
by US Local Business Association
The Powerhouse
APEX Truck-mounted Real Steam Cleaner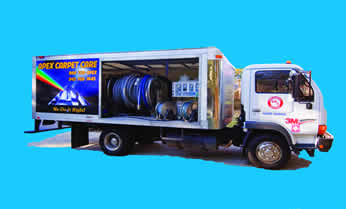 Visit Apex Blog to learn more about carpet care.
Click here:
Apex Carpet Care is one of the most experienced carpet care and emergency services organizations in the Lowcountry. We provide expert and friendly service in the greater Charleston area. Apex has been recognized as "The Best in Charleston" for several years.
If you're a homeowner in need of a tough food stains removed, pet odors banished, or just routine carpet cleaning, we can do it. If you're a business in need of carpet dyeing or repair, upholstery cleaning, or tile cleaning, we can do that, too.
As an emergency services organization, we can fix the damage to your home or business from smoke, fire, and water. Apex also provides crime scene and trauma cleanup services on a 24/7 basis.
Our customers aren't just satisfied with our services, they're blown away! We go above and beyond to exceed expectations. And we do it at affordable prices.
Apex is one of 11 carpet care companies in the Charleston area that is certified by the IICRC in Carpet Cleaning, and one of 9 certified in Water Damage Restoration. And we are the only IICRC certified Area & Oriental Rug Technician in the Lowcountry.
The IICRC – Institute of Inspection, Cleaning, and Restoration Certification – is a certifying body that sets standards in cleaning and restoration. To be certified by the IICRC is to adhere to high standards in both technical expertise and business ethics. We are proud of our IICRC certifications.
To find out more about what we do, look at our Residential, Commercial, or Emergency pages. To get a peek at how we remove stains, check out Stain Care. Or learn more About us here.